Best for travel in Canada
From the Pacific coast to the Atlantic Ocean, Canada is as vast as almost twenty times the size of France. It is difficult to define this great country: there is a rich and industrialized Canada, another wild one; an English-speaking Canada close to its American neighbor, and another French-speaking one, which claims its particularity; a mountainous country in the west, and a flat country in the east; a country dressed in white in winter, but which reveals its colors during the Indian summer; an authentic country which has many modern cities: Toronto, Montreal, Vancouver… The forests are sometimes dense and interminable (on the north shore of the St. Lawrence River), sometimes sparse (in the Okanagan). The mountains are sometimes steep and impressive (in Lillooet), sometimes soft and rounded (in Bic). The lakes can be huge (the Great Lakes), or human-sized (around Edmonton). Water is omnipresent.

It can be blue (Okanagan Lake), green (Hector Lake) or dark (Lac Saint-Jean), cold (in Victoria) or warmer (in the Baie des Chaleurs). But if there is one constant in this country, it is Canadians, warm, welcoming and supportive. It's hard to imagine those who came to settle on this land without limits or fences, to establish towns and villages that look like nothing else. Quebec City, the oldest city in North America with its fortifications and its Château Frontenac, stands in stark contrast to Vancouver, a metropolis pulled upwards by its skyscrapers. Flip through the pages of a tourist guide about Canada and set off to meet this diverse destination, as dynamic as it is serene.
THE TOP 10 CITIES YOU HAVE TO DISCOVER
MORAINE LAKE, ALBERTA
Moraine Lake is a body of glacial water located in the Ten Peaks Valley, at an altitude of almost 1885 meters. The lake takes its name from the moraines – rock debris deposited during snowmelt – from the Wenkchemna glacier. A visit to this amazing place is recommended to all visitors passing through the province and wondering what to do in Canad
EMERALD LAKE, BRITISH COLUMBIA
This splendid lake takes its name from its so particular green color; surrounded by a mountain range, it is located in the national park of Yoho, of which it is the largest water point; one discovers there a splendid fauna and a splendid flora, which one does not meet nowhere else!
MONTMORENCY FALLS, QUEBEC
Montmorency is a waterfall located at the mouth of the river of the same name, near Quebec City, of which it is one of the symbols. It is a point of tourist interest to visit in Canada: it rises 30 meters above Niagara Falls, and a suspension bridge over the waterfall allows the most daring to test their resistance to vertigo! In winter, it is frozen and is suitable for ice climbing.
THE VALIN MOUNTAINS, QUEBEC
The Monts Valin is a mountainous massif along the north shore of the St. Lawrence River, with a dozen peaks of medium mountains: take advantage of it to go hiking, many trails go through the place!
HISTORIC DOWNTOWN, QUEBEC CITY
Quebec is a province but also a city, and not the least important: Old Quebec is a succession of historical monuments and cultural points of interest, as well as many museums. The buildings there are superbly restored and really worth a visit.
JASPER NATIONAL PARK, ALBERTA
One of the most beautiful places to visit in Canada: in the heart of the Rocky Mountains, this protected natural area is home to an exceptional fauna – bears, moose, elk – as well as a unique flora perfectly preserved. Ideal when you want to recharge your batteries in the heart of nature and enjoy peaceful nights under the stars.
LAKE LOUISE, ALBERTA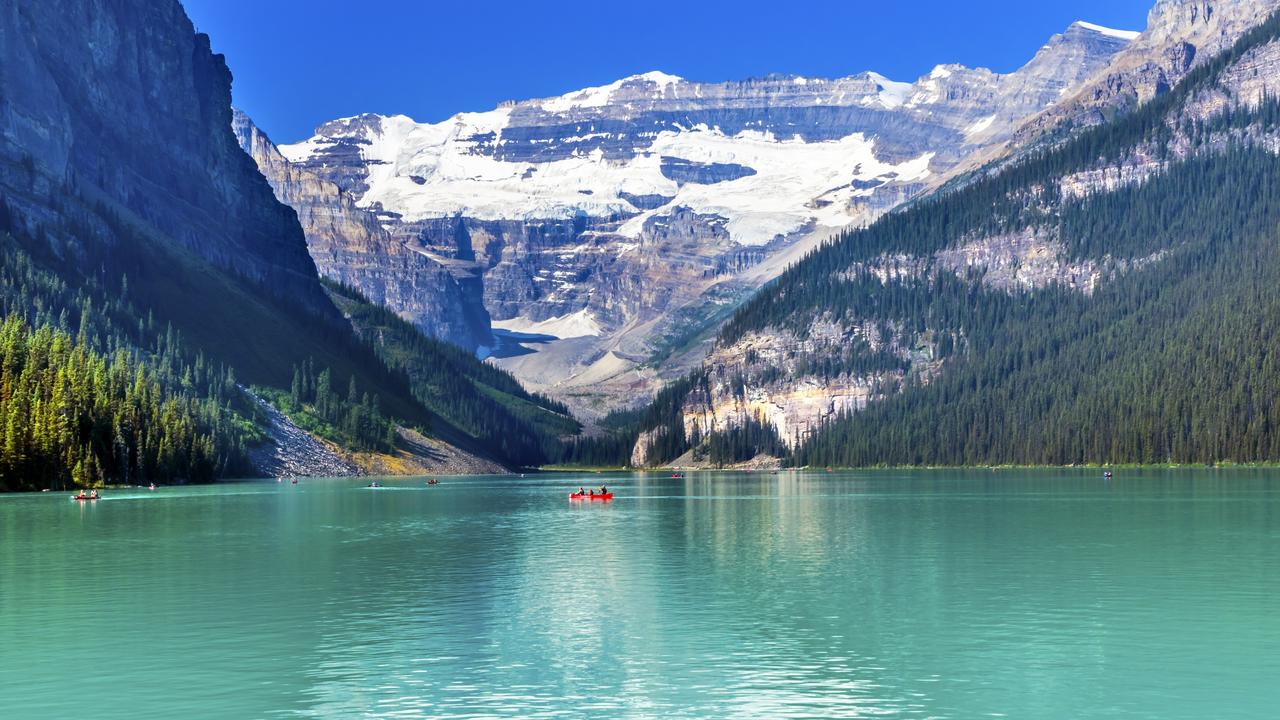 Lake Louise is known for its turquoise waters, which it owes to the crushed rock resulting from the sedimentary grinding carried out by the various glaciers surrounding it. It empties into the Bow River and offers plenty of space for camping and easy access to the town of Banff.
NIAGARA FALLS
Niagara Falls is one of Canada's most beautiful natural attractions. With the passage of millions of tourists each year, it is definitely a place to see and contemplate. There are currently three falls in Niagara, with the most popular and widest, the Horseshoe, being approximately 57 metres high. In addition to the famous falls, many other activities are also offered such as restaurants, museums, stores, water parks and casinos.
TORONTO
Toronto is a very large city. Simply put, one in four people who live in Canada live within 150 kilometers of Toronto. It impresses by its explosion of construction sites. Huge cranes ready to create the buildings that will make the skyline of tomorrow of the fourth largest megalopolis in North America, behind NYC, Mexico City and Los Angeles ! The CN Tower does not go unnoticed, if you're brave enough, you can use the glass elevator to the top where you can enjoy a view of the entire city. In addition to this incredible view.
THE OLD QUEBEC
The Château Frontenac is one of the most visited places in Quebec. If you call yourself a fine gourmet, take a guided tour of Old Quebec to discover five places marked by European heritage. There are also several museums to visit where you can learn more about the history of Quebec in the 17th century.
EVERY ADVENTURE NEEDS MUSIC ! LISTEN FOR FREE
What is Amazon Music HD?
Amazon Music HD is a new high-quality music service offering more than 60 million titles in High Definition (HD) and several million in Ultra High Definition (Ultra HD), the highest audio quality available today. Amazon Music HD offers all music lovers lossless audio of superior quality. Existing Amazon Music Unlimited subscribers can upgrade to Amazon Music HD for an additional €5 per month.
THE BEST GUIDES TO VISIT CANADA
THE PACK TRAVEL